What began as a chance meeting of two persons with similar interests in Bristol, England has ended in a wonderful celebration of love between Dr. Aisha Egala and Mr. Morgan Davies in Accra, Ghana.
The lovebirds got married following three days of cultural, colourful and religious ceremonies that were witnessed by family and friends who came from all corners of the globe.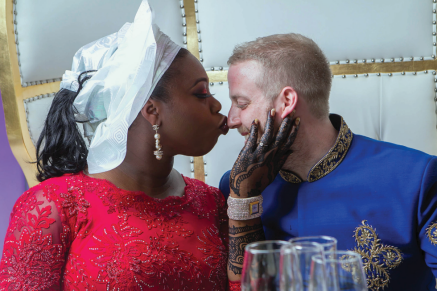 This spectacular celebration kicked off with the very cultural "Lalle" Ceremony. This is an occasion where the bride is beautified with henna ink-and the females in the family come round to sing, cheer and generally rejoice with her.
Aisha, a practising Medical Doctor was full of smiles, as she sat through the whole ceremony with a joy on her face-she obviously was looking forward to this day-and from all indications it turned out exactly as she had imagined: Special.
Later that day, Aisha changed to lovely traditional attires, and the venue, her family home in Accra, Ghana, erupted with jollity as traditional and contemporary music wafted from the PA System.
It was at the prestigious Labadi Beach Hotel that the most elaborate reception was held the next day. For those who don't know, Labadi is Ghana's most iconic hotels. It was the hotel preferred by Buckingham Palace when Her Majesty The Queen visited Ghana-little wonder that royal treatment was also laid out during the wedding reception for Aisha and Morgan, a well-travelled Executive Chef.
Guests who arrived early were treated to cocktails and canapés before they were eventually allowed into the heavenly decorated hall. The Event Planner and decorator went the extra-mile to ensure that the venue was welcoming, warm and splendidly arranged. The floral and lighting arrangement were simply spectacular.
This lovely setting formed a perfect backdrop when the couple were ushered into the venue by the Master of Ceremonies. The whole event was seamless: From the couple and friends dancing excitedly into the arena, the cutting of the cake to them feeding and serving each with drinks, there was no dull moment.
However, what could be considered as the highest point of the ceremony was the emotional speech by the bride's grandmother.
She recalled the days of Aisha as a baby, and go-getting, serious-minded teenager, she thanked Almighty Allah for keeping her alive to witness the day. She wished the couple a blissful marriage life.
Thereafter, the couple hit the dance floor, and were joined by guests-the dancing went on till the wee hours of the following day.
The Islamic Marital rites better known as the Wedding Fatiha was held the following afternoon. This was what could be described as the official joining of the Egala and Davies families.
The Master of Ceremonies was none other than Popular TV Personality, Sheikh Aremeyaw Shaibu. he, it was, who introduced both families and also the Imams that were present. Mr. Osman Egala, father of the bride and Mr. Robert Davies, groom's father were both present as the rites which included prayers and payment of the bride price took place.
When the couple were formally joined according to Islamic injunction there was a loud Allahu Akbar from all guests, and everyone was joyous.
Later, the venue was re-arranged for another session of eating, drinking and merry-making. It was a fitting finale to a colourful celebration which saw two hearts and two families become one!
In an interview with Ovation, the bride told us that his beau has always been full of lovely surprises and that has kept the flame of the relationship burning.
According to her, his proposal was so romantic "He booked a table at a lovely restaurant overlooking the bay of Naples, Italy, and the scenery was so wonderful. I had no idea he was going to propose and so when he popped the question, I said an instant Yes!"
Aisha told us that she loves his kindness and honesty and that throughout their five years of courtship, she never pressurized him over marriage because they were happy and comfortable in each other's company.
About her experience with the henna ink, Aisha said she loved every second of it, though it took all of four hours, she noted that "The experience made the whole wedding extra cool."
For Morgan, he really loves Aisha's personality, her intelligence and her beauty. Reliving how he proposed, he told us that he wanted to make it as dramatic as possible and that was why he chose the restaurant with a spectacular view. According to him  "I went down on my knees and proposed and was overjoyed when she said yes"
Morgan told us that he had been to Ghana three times so far and loves the culture, weather and the hospitable nature of the people. He also loves the food. His favourite being Banku& Tilapia with some Shitto.
He revealed that he had no qualms marrying an African, for him "The questions I asked myself were: do I love this woman? Is this the lady I want to spend the rest of my life with? And when all the boxes were ticked? "And she felt the same way about me, this was a no brainer for both of us. I am happy it has happened at last"
The bride's mother, the gorgeous Hajia Nahid Egala says the wedding of her daughter was the best day in her life yet. "As a mother, I am very proud of Aisha. She has always been an intelligent and obedient daughter and I am happy that this day has come and I can see joy written all over her face"
"This is the first of my children who will be getting married so you can imagine the excitement and preparation. But we thank God it all went well, and we are grateful to friends and family who came from far and near to share this joyous occasion with us"
Mrs. Egala told us that Aisha is a Princess and she really needed a Prince to complement her and in Morgan, she has seen a Prince Charming.
Having been married for 33 years herself, she wishes her daughter the very best and revealed that despite living in the United Kingdom, Aisha from childhood had always wanted to be married like an African "And I thank God that her father and I as well as all the family members have made her dream come through". She also eagerly awaits taking up her new role as grandmother.
Robert Davies, the father of the groom said from his observation, the couple are genuinely in love with each other and so he had not hesitation when it was time to give his blessing.
Asked what is reaction was when Morgan brought Aisha home, Mr. Davies stated "As an Executive Chef, I know my son mixes well with all kinds of people, so when we met her for the first time, we were happy for him. We were just glad that he had found love and was now ready to settle down to start his own family.
Soft-Spoken Mr. Osman Egala, father of the bride said the family is happy to receive Morgan into their home as their son.
He told us that Aisha will make a good wife because her mother has been a wonderful partner and good role model for her to emulate. "If she follows our teachings, she will do very well as a married woman. I am very happy for her"
Mrs Jayne Davies, the groom's mother stated that she was very pleased for Morgan and Aisha. Like other members of the family, this was her first time in Ghana and she has been enjoying every moment of it.
While advising the couple to be true to each other, she reveals that she will definitely be back on  vacation. According to her "The Egala family are very warm and beautiful people, and I sincerely thank them for allowing our son marry Aisha". She wished them the very best.