It was a day of resounding recognition for years of entrepreneurial excellence and innovative enterprise when Dr. Adebola Akindele, the Group Managing Director of Courteville Business Solutions Plc., a leading e-business solutions and advisory company headquartered in Nigeria, was conferred with the award of Lagos State Man of the Year 2017 by the Centre for Policy Development and Political Studies (CEPODEPS). The conferment ceremony held at Eko FM Multipurpose Hall on Lateef Jakande Road, Agidingbi, Lagos.
The venue of the award ceremony was filled to the brim as colleagues, friends and family members of the debonair gentleman turned out in their numbers to register their support in no uncertain terms. Chief Organizer of the award, Dr. Aderemi Ifaolepin Aderemi, stated that the Lagos State Man of the Year Award (LASMAYA) is an accolade given to individuals who are symbols of achievement in Lagos State's public and private sectors, particularly those who have attained a standard of merit in the eyes of their peers having performed exceptionally in their industries.
"This is a celebration of true, well-refined personalities of immeasurable worth of whom Dr. Adebola Akindele is one. Our assessment is based less on traditional titles and roles and more on creative influence and entrepreneurship."
"What is popular in our society is to celebrate the celebrated, to praise the praised, and to identify with success; but we are shifting away from the norm. We have decided to look for a way to reward character – the unsung heroes. This award was created in essence to pay tribute to excellence," Dr. Aderemi averred.
Affirming that the recipient of the award which is in its seventh edition, is picked through a rigorous and thorough selection process, the convener revealed that awardee was nominated alongside nine other notable Nigerians by a 9-man selection committee that comprised mainly of academics, writers, researchers, and media professionals.
He also revealed the judging criteria for the nominations to include exemplary leadership qualities, consistent high moral standard and integrity, outstanding personal achievements, outstanding selfless service to Lagos State and humanity as well as the opinion polls of the public, while expressing gratitude for the overwhelming response by the public during the voting conducted via short message service from Monday, 14th of August, through Sunday, 20th of August 20, 2017.
The shortlist of nominees included Lagos State Commissioner for Local Government & Community Affairs, Hon. Muslim Olohuntele Falemi who finished with 810 votes; the Aholu Henwa of Kweme Kingdom (730 votes); Chairman of the Lagos State Local Government Service Commission, Alh. Babatunde Tajudeen Rotinwa (1, 313 votes); Permanent Secretary, Lagos State Ministry of Waterfront and Infrastructure Development, Engr. Adeyemi Saliu Abidemi (805 votes) and Lagos State University (LASU) Vice Chancellor, Prof. Olanrewaju Fagbohun (2, 934 votes).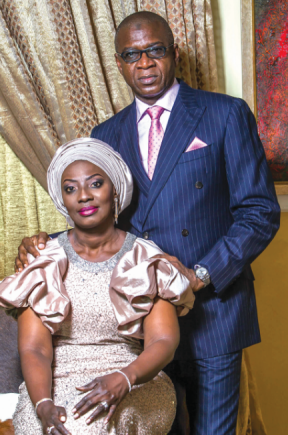 Others were Access Bank Group Managing Director/CEO, Dr. Hebert Wigwe (511 votes); the Olori Oluwo of the Reformed Ogboni Fraternity, Olori Francis Meshioye (2, 084 votes); MD/CEO of Nordica Fertility Centre, Dr. Abayomi Ajayi (2, 038 votes); and the President/CEO of SAF Petroleum Limited, Aare (Dr.) Safiriyu Adebanjo Kazeem (1, 632 votes).
Dr. Akindele emerged winner of the award with 3, 324 valid votes cast.
In his acceptance remarks, he thanked his team at Courteville for their sterling contributions to the growth of the company saying, "We do not have the deepest pockets by any means. We do not have the brightest visibility. We do not have the most number of people but we have ourselves. All we did was just to require that we all put in our best and to see what comes of it."
Dr. Akindele, who also had special words of gratitude for a couple of his friends with whom he shares fond memories, including Nigeria's former Minister of State for Finance, Hon. Remi Babalola, quipped, "It was because of them that I moved out of the public sector at the Central Bank into the private sector. In 1989-90, we were struggling ICAN students. We didn't have cars or homes of our own but we had ourselves and the belief in the things one could get to do. I am sure our wives married us because of the potential they saw in us at that time."
He also thanked his wife, Mrs. Olabisi Akindele for her unflinching support through the years.
Representing the Professional Excellence Foundation of Nigeria (PEFON), veteran broadcaster, Mr. Seyi Martins, hinted that the awardee, who is a member of the foundation's council would be further celebrated for his latest honour by his colleagues at the foundation on Thursday, October 19th, 2017.
At the ceremony were Courteville Business Solutions Deputy Managing Director, Alh. Wale Osinaike; the Elejinrin of Ejinrin Kingdom, Oba Rafiu Ishola Balogun and his wife, Olori Mojisola Balogun; the Balogun of Ejirin, Chief Muyiwa Akintola; the Olomijo of Omijo, Oba Kazim Olanipekun Gbadamosi and his wife, Olori Taiwo Olabisi Gbadamosi; Ex-Finance Minister, Hon. Remi Babalola; Lagos State House of Assembly member, Hon. Olusegun Olulade; former Secretary to lkorodu Local Government Area, Lagos State, Comrade Japheth Odesanya, as well as board and staff members of Courteville Business Solutions Plc.
Dr. Adebola Akindele started his professional career as an audit intern at KPMG Peat Marwick Ani Ogunde and Co. in 1987 having obtained his Bachelor of Science Degree in Agriculture from the University of Ife (now Obafemi Awolowo University) in 1985. In 1989, he joined the Central Bank of Nigeria (CBN) where he rose to become Treasurer/Financial Controller of the Agricultural Credit Guarantee Scheme (ACGS). While at the CBN, he also served as a Bank Examiner on various occasions.
He would later obtain a Master's Degree in Banking and Finance from the University of Lagos in 1993 and in the same year, having gained substantial regulatory experience, he ventured into the private sector with Oceanic Bank. During a successful seven year stint at the bank, he held various senior management positions including Head of Operations, Chief Inspector and Head of Credit Administration and Loan Recovery and Head of the bank's Commercial Banking Division.
In the year 2000, he joined Fountain Trust Bank Plc. as the Group Head of Lagos Island Business Group. His outstanding accomplishments earned him promotion to Group Head of Commercial Banking, and later, Divisional Head of Markets.
By 2004, after almost 20 years of successfully handling increasing responsibilities in different organisations, he ventured into entrepreneurship with a vision to found a company that would make a mark in its sector for innovation, service and the value of its franchise. In the same year, he opened Courteville Investment Limited to offer corporate finance services and business process reengineering consulting to organisations. The company underwent a name change to Courteville Business Solutions Plc. in 2011 after it went public.
Under his astute leadership,  Courteville Business Solutions Plc. became the leading data capturing service provider in Sub-Saharan Africa and is the first in its sector to be listed on the Nigerian Stock Exchange (NSE) with shareholders' funds in excess of USD20 million.
Dr. Akindele is also the Chairman, Fosters Estate Limited; Chairman, Bolbis Ventures; Chairman, Courteville Investments Limited (Sierra Leone) and Director, Synergy Capital and Advisory Limited.
He is a fellow of the Institute of Chartered Accountants of Nigeria (ICAN) and fellow of the Chartered Institute of Taxation (CITN). He is an active member of the World Business Forum, Africa CEO Forum and the Commonwealth Business Forum. He is also professionally affiliated with the Nigerian Institute of Management (NIM) and the Institute of Directors (IOD).
He holds the distinction of being the only African on the Advisory Board of the Enterprise and Parliamentary Dialogue International (EPDI), a UK-registered independent, not-for-profit body set up to establish a bridge of understanding between parliamentarians and enterprises. He also sits on the Board of Advisors of the East Africa Business Network (EABN) – the first time a non-East African would occupy that position.
A relentless philanthropist, he is an Associate Member of the Nigerian Red Cross in its Platinum Category, for his contribution in aid to medically vulnerable individuals, especially women and children.
In 2016, Courteville was voted the second best place to work in Nigeria by the Great Place to Work Institute at its 4th Annual Best Companies to Work for Award Ceremony, coming second only to American-owned multinational corporation, EMC and ahead of Sanofi. The company was pitted against heavyweights such as EMC Corporation, iSON, Microsoft Nigeria, Guinness Nigeria, Poise Nigeria, Sanofi, Konga, SC Johnson and CAP Plc.  At the awards, Courteville also bagged a Bright Spot Award for Best Practices while Dr. Akindele bagged a Bright Spot for Excellent Delivery of Leadership.
He later sat down for an interview with OVATION to discuss his most recent laurel, little beginnings, big feats and the role of providence in positioning him for life-changing opportunities.
We congratulate you on your recent conferment with the Lagos Man of the Year Award. How symbolic is this accolade for you and Courteville Group
Thank you very much. When the Centre for Policy Development and Political Studies (CEPODEPS) invited me as a nominee, it was a surprise and I wasn't expecting anything. But I was assured by my team that it was a big deal of some sort. So we agreed that it was in our best interest to give it the best shot. We're probably the smallest in terms of depth of pocket, visibility and size but we had social media presence and we maximised that. We had friends, family members and networks that allowed us reach as many people as we could to get them to vote for us. One significant outcome of this award is the visibility it has given our company. The award ceremony itself was a massive PR opportunity for, not just me, but my company in particular and all we do. Now we hope we will be able to take this to the next level by making sure that we do not disappoint those who voted for us as well as the Centre that has bestowed this honour. It is still a big deal to us and for the next 12 months, we will run with this impetus.
How did it make you feel to see the immense support you received from family, colleagues and associates during the voting process and even afterwards at the award ceremony.
The massive support we received demonstrates our relevance and the freshness of relationships built several decades back. We were able to garner votes not just from within our organisation but from home. My wife's alumni associations from her secondary school and universities threw their weight behind us. We had votes coming in from Doha, Australia, New Zealand, Canada, Ghana, the USA, the UK, and all over Africa. It was simply a good way of knowing that we are still in touch with all the people that we should be in touch with.
Prior to the receipt of this award, many would consider AutoReg, which is the flagship service of Courteville Group's subsidiaries more of a household name than you the CEO. Would you regard yourself as reclusive and as shying away from the spotlight and any reason why AutoReg has always been more popular than Courteville. In terms of visibility, the brand has overtaken all the other services we offer – right from inception in 2007. It does not predate Courteville but it is what is most popular because it has over 15 million customers across Nigeria and it is visible because of that. Courteville is a listed company on the Nigerian Stock Exchange (NSE). I have been around business circles and done a lot of things in the past 30 to 34 years. I have been an auditor, a bank examiner, a farmer, a banker and I am now running an IT services company. At 54, I have been around long enough for me not to be considered a recluse of any sort but then, the reservation that you require as an entrepreneur also demands that you operate from the background while your brand creations hug the spotlight. The person behind the service or company does not matter as much as the service being offered to clients and prospects.
Your career trajectory is one of transitions between not necessarily related disciplines-from Agriculture to Banking and Finance, now in IT services. What would you say accounts for these transitions
You find yourself in a peculiar system and you get thrust into reality very quickly. I graduated from the university in the mid-eighties and went for my national youth service. Unemployment was really bad at the time. Those were the years that we eventually had the Structural Adjustment Programme (SAP) and things were tough. I had studied Animal Science at the University of Ife (now Obafemi Awolowo University) and there were not too many opportunities in the labour market for what people read in school at the time. The available opportunities were banking, business administration and accounting-related. So a lot of us found ourselves in audit practice and training regardless of what our backgrounds were. I found my way into KPMG Peat Marwick Ani Ogunde and Co. between 1987 and 1989 and when I was done with training here, I moved to Central Bank where I served as an Agricultural Credit Officer. I moved into the Agriculture Finance Department in 1989 because of my background but eventually I was pushed into roles that had to do with recording data, recording and preparing finance and accounts, treasury, and eventually, bank examination in the Central Bank. Thereafter, I moved into private sector banking in 1993 and the rest is history. As a private banker, it didn't matter what you read in school really. As a manager, it was all the same, as a science or an art form. Management is management and leadership is leadership regardless of what your background was. What you read simply became part of what you needed to do a good job as a banker at that level. I left banking in 2004 at General Manager level to promote Courteville which started as a business advisory firm but we have since expanded our portfolio because we were striving to offer practical solutions to everyday problems in people's lives. That was how the AutoReg franchise was born. And after AutoReg, we have created a lot of different services and products that are helping to drive our vision which essentially involves touching the life of every citizen of the world. In doing that, we say we will ensure to give our stakeholders the best in terms of equity, equilibrium, empathy and many other values. We want to make sure that on a daily business, you will find your way to one of our platforms to meet one or more of your daily requirements.
You did say at the award event that your success in life has not been the product of any meticulous planning process but by the grace of God. One would imagine that for someone who has achieved such a level of success, there must have been a certain degree of fastidious planning involved
The greatest planner is God-the Almighty Allah himself. I do not believe that I have achieved anything that many more people have not tried just as hard or harder to achieve and yet failed. I am not the best at anything at which I have succeeded but God has been kind to position me here. The truth about it is that there hasn't been any grand plan towards where we are now as a company and or where I am as an as an individual. And I will never take glory for it or say it is simply as a result of my hard work. It has been God all the way. The man pushing the cart out there is also working very hard but you need the element of God's blessings in all you do. In your career, you need to be positioned appropriately and that cannot be by your own doing alone. My total belief in the Almighty Allah allows me to be well-positioned for opportunities and it has been shown to me regularly. I work very hard in one direction and there's some unseen hand that pushes me in another direction and I find myself in a place better than I had hoped. AutoReg is one of those kinds of situations and I looked for what to call it for decades until I stumbled upon a book about five to six years ago called Synchronicity. You cannot claim the glory for what synchronicity does in your life. It is God.
So you do not believe in the concept of self-made men
God makes man. Man will just make effort not to lose the opportunities when God presents them to him.
At the award ceremony also, you rolled back the years when you mentioned the days of little beginnings with the likes of the former Minister of State for Finance, Remi Babalola and other individuals – days when you had no car or house of your own – and how your wives chose you guys not because of any tangible success you had but because of your potential. What were those early days like
Those were the years between 1986 and the early nineties. We were all young men, not so fresh out of school, but mostly trying to get a foothold in some career or employment. A few of us were in training with KPMG then. My friend, Remi Babalola, who eventually became my best man in 1991 was with Arthur Andersen. We had Aiyedun Fashina. We had the current Managing Director of FMDQ, Bola Onadele Koko in our set too. We had Debo Olasore and Laoye Jaiyeola who is the current CEO of the Nigerian Economic Summit Group. There were quite a number of us at that level at that time. The current Minister of Trade, Industry and Investment, Okechukwu Enelamah was two years behind us in ICAN training. We were all young men and women at the time hoping for the best and the best we could attempt to do at that time was to position ourselves, in terms of our careers, for the greatest opportunities that we would be presented with. None of us had a car even though I was driving my dad's car. I was still staying in my dad's home. None of us had anything until we got our first jobs in banks. The current Vice President, Prof. Yemi Osinbajo did not even have a doctorate at that time, if I recall well. He was our lecturer in Company Law in 1989 during ICAN classes. You never can tell where you will end up. Here we are now with no knowledge of what will happen in the next minute, hour, year or decade. So, for me, it is about how well you position yourself to take advantage of the opportunities that God brings to you and to pray that God blesses your effort while at it.
I noticed that even though this was a personal award and not a company award, you still singled out your staff for praise and lauded their contributions towards the making of your success story
Courteville has a particular stakeholder that we do not toy with-our staff. It is only when you treat your staff well that your customers will get treated well and not the other way round. I grew up as a professional not having the benefit of mentorship or role modelling and I had to stumble my way through everything I know in most cases. So I have learned that you have to keep telling people that beyond what you can do for yourself, you also need to be allowed to grow and learn from those who have been through it. At Courteville, we have over 200 employees and everyone was involved in the voting. So, my appreciation was on a number of many levels transcending what you can even imagine. They participated at the level of self-involvement. They contributed through their extended families. They went out of their way to call for votes on my behalf on social media. They contributed towards the holding of the event. They took this beyond work. It was a personal cause for them and that, I had to appreciate. And between them and me, it has always been personal. We do not have a company as it were, we have a family. We empathise with our staff. It is only at Courteville that you have such open relationships between the executives and the staff. That is why a year ago, an international agency, Great Place to Work, gave us four awards including the second best place to work in West Africa. And awards keep coming in from different directions. We do things differently here. Our employees are our flagship stakeholders. It is what they project and how they project the company that allows the users of our services see what we have to offer.
As a CEO, what do you look out for when recruiting to fill positions within your organisation
The first thing a leader needs to be good at is recognising talent and potential in people even before the people themselves see their own potentials. You have to be able to discern it from afar. It does not have to be palpable but from short interactions, you should be able to detect that a person would make a great addition in a particular area of need within the organisation. That's a gift I have always had. I watch out for people with passion and courage. I watch out for people who are not entirely like me but who can complement me in all that I do. You can't do everything yourself. You need people to provide strength where you are weak.
It has become the singsong of many Nigerian employers that the schools are producing graduates who lack the requisite experience to function effectively in roles in the modern, complex workplace. Do you have the same experience
Oh yes we do but it does not stop there. Your role either as an employer or manager or leader or as a Nigerian entrepreneur is to see the potential in these kids regardless of the inadequacies of the system that produced them. Identify their potentials and train them to be better than they thought they could ever be. I have about 15 employees in my IT department and most of them graduated from Nigerian universities but we have trained them enough to know that they are just as good, if not better than those who come from abroad. I really don't believe that all the local schools are doing so poorly. Covenant University has won so many awards in terms of what they have produced in different fields. The problem really is the disconnect between the gown and the town but I believe that it is the role of the private sector to collaborate with the educational sector to ensure that the schools are not loading the students with theoretical garbage and churning out robots as graduates.
I see you have an impressive collection of books here. Do books play that important a role in the success of entrepreneurs
For me, it was never about books. Most of the books you see here have come from my mentees. We work on something together at the office and then they get to read a book where they see concepts and ideas I had already discussed with them and they get me the book.  The interesting part is that that can only happen when what you are trying to mentor people about makes sense. I actually read about people and their autobiographies not because I want to be like them but because I can pick one or two things along the way. I read books on management and leadership. I went back to school after about a 20-year hiatus from academic work and bagged my doctorate degree because I felt there were some new things I needed to know. I know that learning has to be continuous and it is perpetual in my life. The day you stop learning is the day you start dying. My motto in life with regard to learning is, know a lot about everything and everything about a lot, and that positions you to be able to have meaning conversations and contributions.
Courteville is breaking new grounds in business domestically, across the African continent and around the world. Do you mind sharing with us some of the strides you have taken in the past decade
It continues to be a challenge trying to work in Africa. We have a wholly-owned subsidiary in Jamaica. We are in the process of setting up offices in Trinidad and Tobago and Turks and Caicos. In Africa, we started operations in Sierra Leone but it has stalled. We have our operations in Zimbabwe and another is coming up in Liberia and hopefully, in Ghana soon. It has been so difficult, especially in the ECOWAS sub-region to get any cooperation from any other economy for Nigerian businesses to operate and thrive. We had a 10-year contract with Sierra Leone and we were only able to work for six months for nationalistic reasons. Everybody is scared of a Nigerian businessman. They say we are too aggressive and we take over everything. The same scenario plays out in a lot of other places. There are some economies around us here whose names I will not mention that have unwritten policies of not letting Nigerian businesses come near, let alone thrive.
Nigerian entrepreneurs suffer simply for being Nigerians out there. We try to overcompensate to be able to get any foothold out there. Then we come back home to Nigeria and are still disadvantaged because government favours foreign companies or local affiliates of foreign companies well above local companies with no such affiliations. I find that rather unfortunate. We need to start believing in ourselves as Nigerians. We have to start trusting what can come out of here. We have shown it in Courteville with a lot of our services. We have shown it with our people. We have won awards that are beyond Nigeria and Africa. We have given the Nigerian government the kind of visibility that they have never had in places like Jamaica and Trinidad and Tobago. We have done things that nobody could have imagined would have happened here. AutoReg is the first of its type anywhere in the world and it still remains so. It is the only system that allows you go into a vehicle registration centre and come out with your vehicle documentation in less than five minutes. It happens nowhere else in the world.  Courteville is the only company that can give you what we call the AutoReg Inspector that allows law enforcement agents to access a one-stop system on their mobile phones to verify vehicle documentation. We know how to use what we have to get what we want.
Courteville boasts an impressive portfolio of innovative IT-based business solutions-could you give us a quick run-through
We are most popular for AutoReg but we have a bouquet of other services that we have in our hands that allow us say with pride are relevant in solving business and other problems here. If you have to do anything with the National Agency for Food and Drug Administration and Control (NAFDAC) in terms of registering your product and getting required approvals, what you'll need is NAPAMS which is an acronym for NAFDAC Automated Product Administration and Monitoring System. It is a web-based enterprise software solution that we designed and developed for NAFDAC for e-registration of new products and renewals, data capture to create an authentic database of all products currently approved and registered with NAFDAC and remote verification of all NAFDAC-approved products in Nigeria. It is the service that won the best application in the Commonwealth – a competition held in London last year and convened by the ICT Ministers of the various nations in the Commonwealth. If you have to do anything about your vehicle insurance and your marine importation business – the e-solution for documenting your transactions – the Nigerian Insurance Industry Database (NIID) – came from us. In collaboration with the Nigerian Insurers Association (NIA), the solution was developed to create an authentic and verifiable database of all insurance policies issued in Nigeria. We have Egole Shopping – which really is the first e-commerce site in Nigeria-only that it was not straight up commercial. We have other products designed for other specific sectors – education, business and much more. The SMELite was developed to help small and medium scale enterprises grow into world class business by simplifying their processes and helping them to eliminate bottlenecks that impede growth. The challenges of SMEs in Nigeria are clear – lack of transparency in their operations, lack of accountability and lack of financials. In conjunction with some banks, we designed SMELite to address these three issues and then also create visibility for the product or service. You don't have to do anything technical other than to simply enter your transactions and your accounts are produced on online databases. The banks will know what you have done by seeing your numbers. You yourself will see your own numbers without prior training as an accountant. You can also print your records for anybody to review. At the end of it all-you can get this premium service for as low as five thousand naira-the cheapest such service anywhere. We have gotten interest from the Jamaican Stock Exchange and gotten interest as well from Coventry University. They are trying to get us to remodel it to suit their own purpose. What we produce is world class and they can be repurposed to meet market needs anywhere in the world
As a very busy Chief Executive, how do you balance your responsibilities at the workplace with your responsibilities as a husband and father
I don't take work home and I don't bring home to work. I compartmentalise. I learned that from Chinese traditions where you can actually build something akin to Chinese walls in your mind so that you can give one hundred per cent of your focus and attention wherever and whenever it is needed. I do the best I can at work and do same at home. I don't work at home and I don't do home at work. You won't find a work desk at my house.
You had glowing words of praise for your wife during your remarks at the award event. How would you describe her and the role she has played in your life
At the event, you know I mentioned that the extended family has named her apoti aje which means treasure chest in English. She is the homemaker even though she is a businesswoman. She is the wife, mother, daughter, sister to every one of us at home. She is the all-in-all after God to all of us at home. She keeps it all together and allows me to focus on all we need to do to be able to give the family the best we can afford by God's grace. She's a central point in most instances.
She is a mentor to a lot of people. She believes that I am too open – even to a fault – but it is because she has not stood in front of a mirror because she is exactly like that. My choice of her was by divine orchestration in 1990 when I saw her. I knew right away that she was the one I wanted to marry even without her knowing. And by 1991 we were married. I cannot separate the blessings of this company or mine or of anyone around us from her efforts. She has put in 120% of her being into everything we have done together and it has been good all the way. Challenges come as an inevitable part of life but we are thankful that we have waded them successfully together.
Tell us about your kids
I have four kids and I am quite grateful for all of them. They are lot more intelligent than I am. I never try to teach them new things because they know the new things. I can only teach them old things. It just gladdens one's heart that all one's investments and efforts are not going to waste. I only wish all parent could afford the same kind of opportunities for their children. The first recently graduated in America with a degree in Global Business Management and has just started work. The other three are still here in the American school system and they are a delight to have around. The way their curriculum works allows me to tap new insights that I bring back to work and discuss with my teams. I am grateful for the blessings of God on my family.
What interests do you pursue in your spare time
I stay home. I watch TV, sports. I read sometimes.