Forty is the teenage of old age which one can use as a pedestal to live life to the fullest and make it magical. Therefore, when we look into the horizon of life and see the awesomeness that lies ahead, everyone will realize the fact that life's milestone is worth celebrating. One of those who realized this fact is the quintessential Togolese business woman, Ms Querida Olympio, who hosted family, friends and associates as she clocked 40.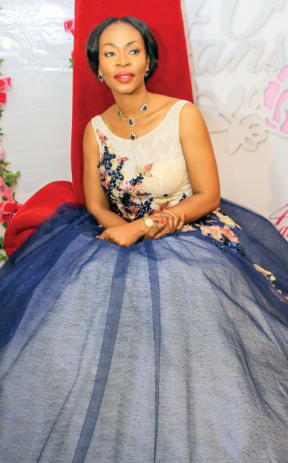 The celebration began with a church service which was held at the Notre Dame De Liban, Lome, Togo. The hallmark of the thanksgiving church service was music, and the celebrant, family members and indeed, the congregation, did not hold back their joy as they sang and danced throughout the service. The choir sparkled in their Kénte outfits and actually stole the show with some exciting choruses, that thrilled everyone.
After the bible reading by the celebrant's younger sister, Soizick Olympio, Reverend Father Jean Baptiste Alade preached the sermon in French. The clergy gave a spirit-lifting message, as he infused a lot of interesting stories and anecdotes from the scriptures which he admonished the congregation to ruminate over.
The thanksgiving session featured the celebrant and family dancing towards the altar with various gifts amidst joy and cheerfulness. The clergy collected the gifts and prayed for the celebrant.
Later in the evening, an exquisite dinner party was hosted for few of her friends and close family at Radisson Blu, Lome, Togo.
The event which was tagged ''40 ans'' began with the arrival of the gorgeously-dressed celebrant, Ms Querida Olympio, who looked radiant in a white and pink evening dress and received a standing ovation. After the opening prayer, guests made their way to the buffet table where they enjoyed mouth-watering dishes. Thereafter, a well-designed cake was cut in a bespoke and uncommon manner as guests joined in a flurry of photographs.
The following day, guests moved to the celebrant's residence for a grand house warming. Then it was dance, dance, dance till late in the evening.